Commercial Aquariums
UK Custom Design & Installation Specialist
There is a long list of prestigious organisations that have used Aquarium Services at their premises in the over the last 25 years, and with good reason. We are well known in the industry as being one of the leading and most knowledgeable corporate aquarium designers in the UK.
Aquarium Services have installed aquariums in a wide range of locations from schools and colleges, museums, offices, hotels and restaurants, exhibitions and TV studios to name but a few. We work directly with end clients and their facilities management teams, as well as interior designers and architects.
From initial enquiry to installation and beyond you will have one point of contact and a highly personal and friendly service. We regularly have repeat business from our commercial clients, with customer satisfaction being our main priority. This hopefully this shines through in our many glowing corporate testimonials.
All of our bespoke aquariums are manufactured in the UK from the highest quality British float glass in thicknesses ranging from 6mm to 38mm and above depending on the overall dimensions. This ensures not only clarity but also the longevity of your aquarium. We are still servicing commercial aquariums which we installed over 20 years ago!
Fresh water aquarium which can be stocked with a wide range of fish. Approximately 90% of our commercial clients opt for a tropical aquarium. They require relatively low maintenance, can initially be filled with tap water which is then treated and warmed. Tropical aquariums create a fantastic feature in any location.
>>>
As one of the UK's leading 'In Wall Specialists', Aquarium Services can advise and take on the most challenges when it comes to in-built fish tanks in commercial premises. We have the specialist knowledge and vast experience to design stunning aquariums and fit them into the walls and cavities of your building.
>>>
Also known as salt water aquariums, marine aquariums are often considered to be the ultimate in fishkeeping. Being much more sensitive to changes in water quality than tropical fish, marine fish need very high quality water which usually means more regular maintenance.
>>>
In order to fit your offices, retail space or exhibition stand perfectly, we manufacture custom free standing aquariums and fish tanks in many styles & shapes: standard rectangular, L shape, T shape and most non-standard shapes. We also supply a wide range of 'off the shelf' aquariums to fit projects large or small.
>>>
Examples of Our Custom Commercial Aquariums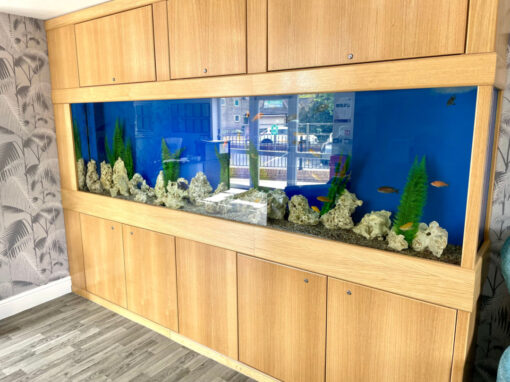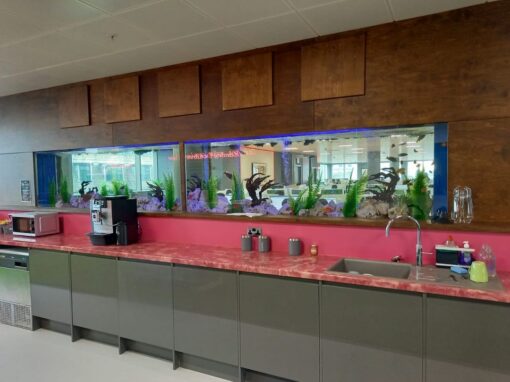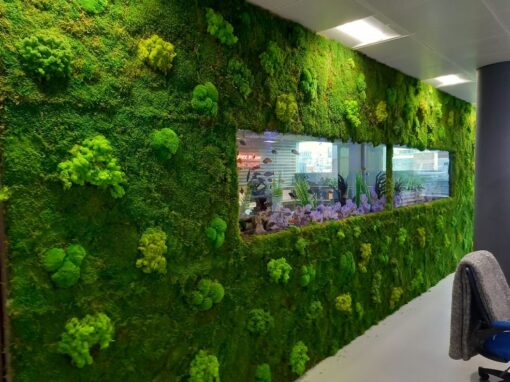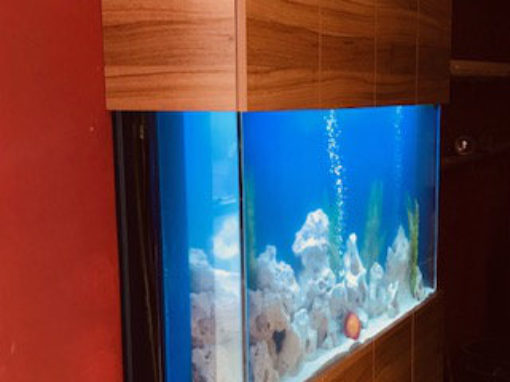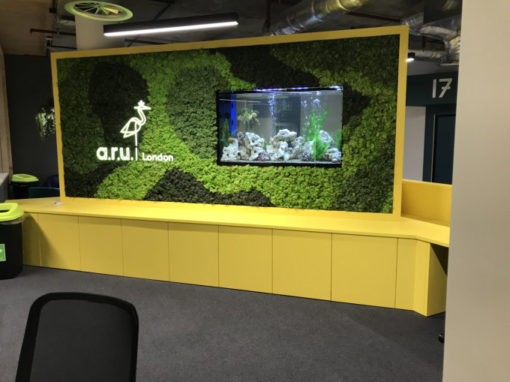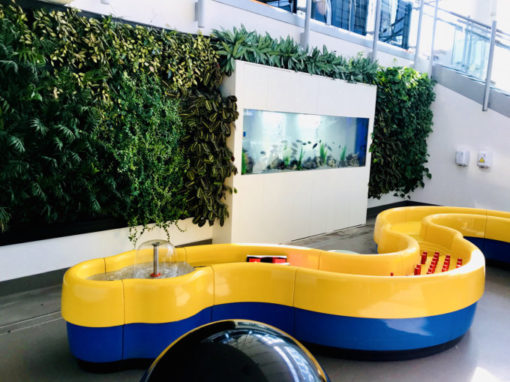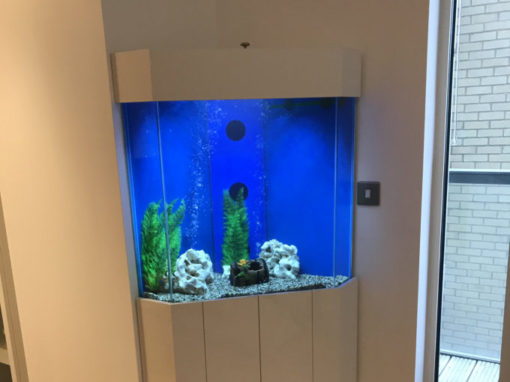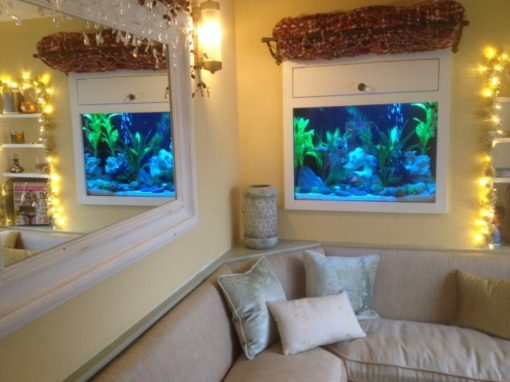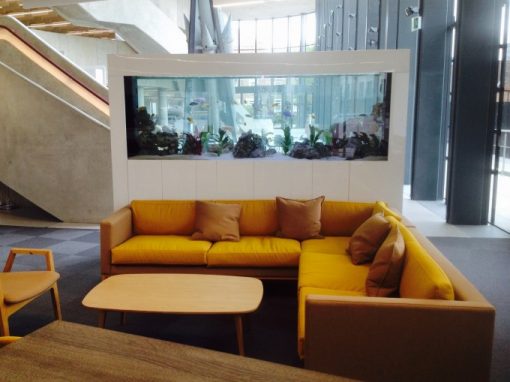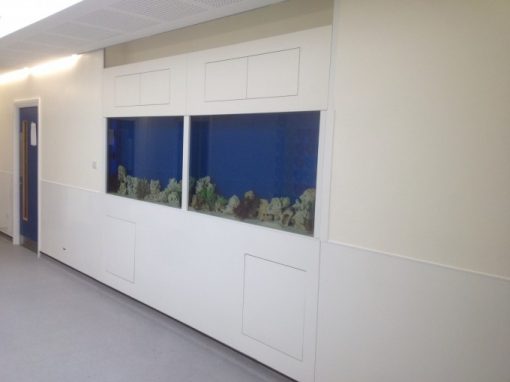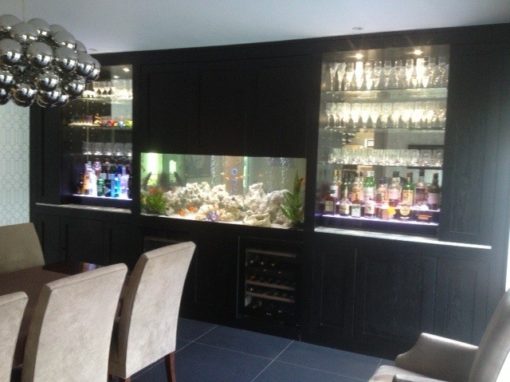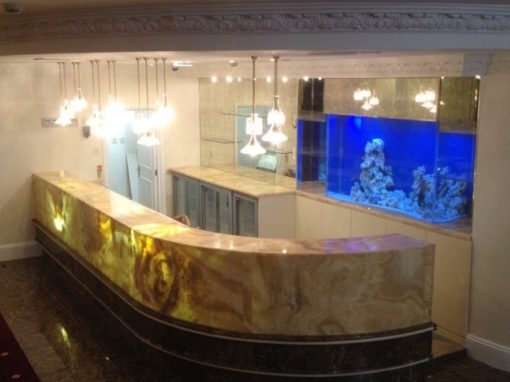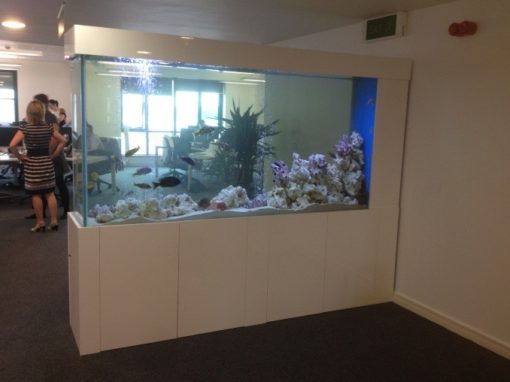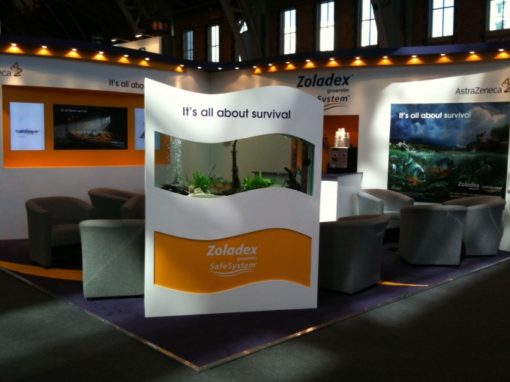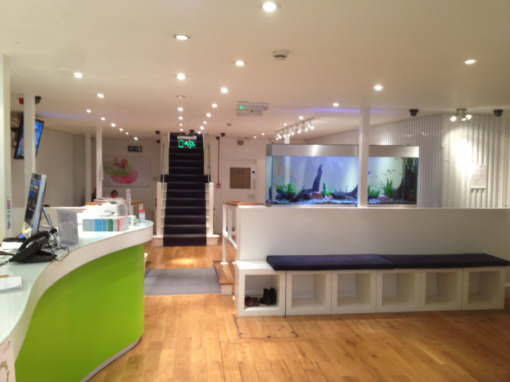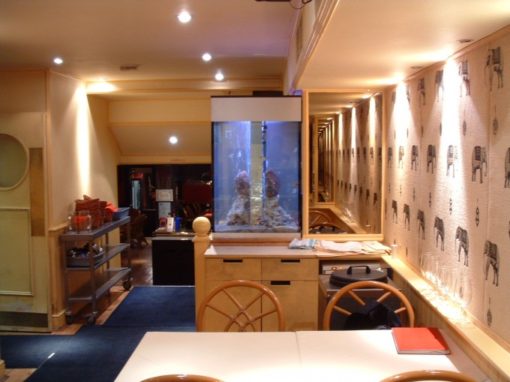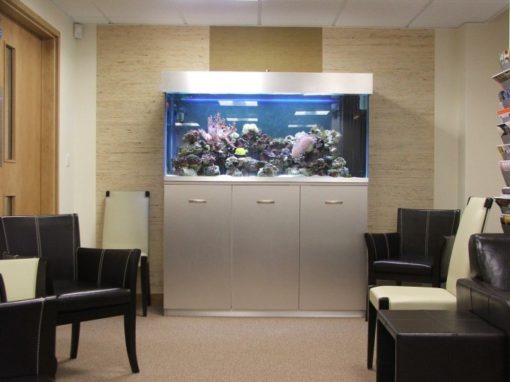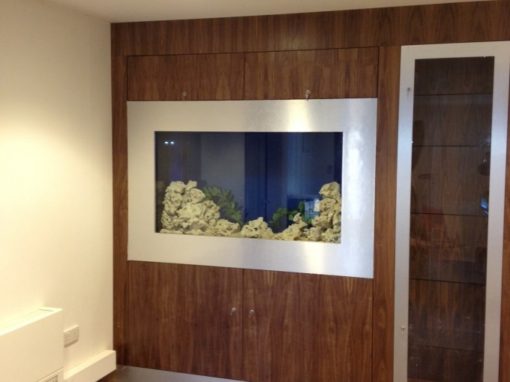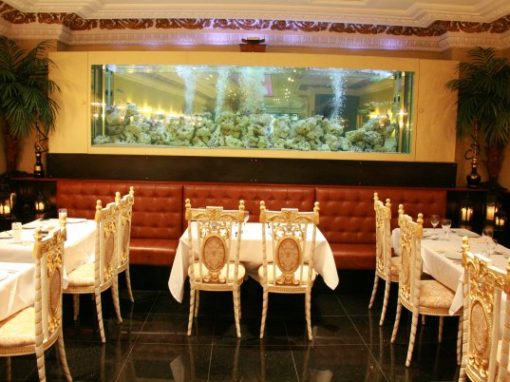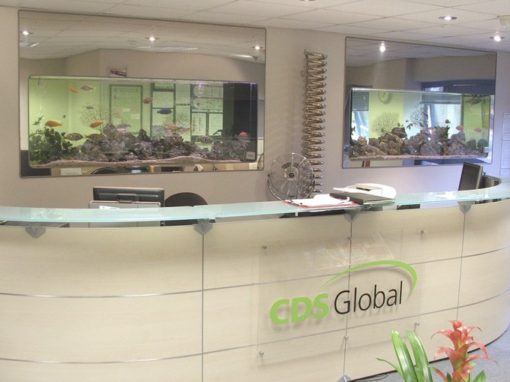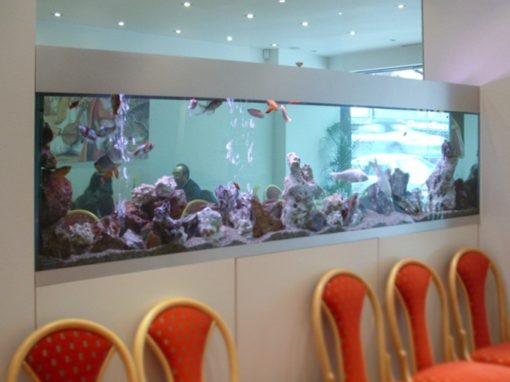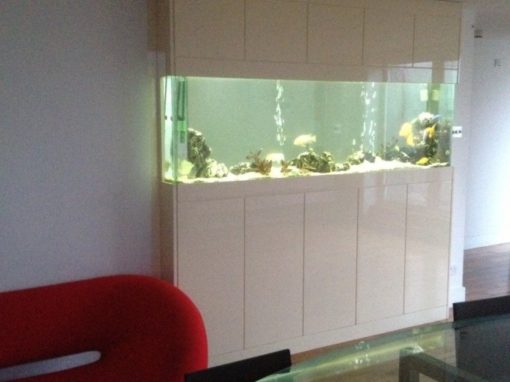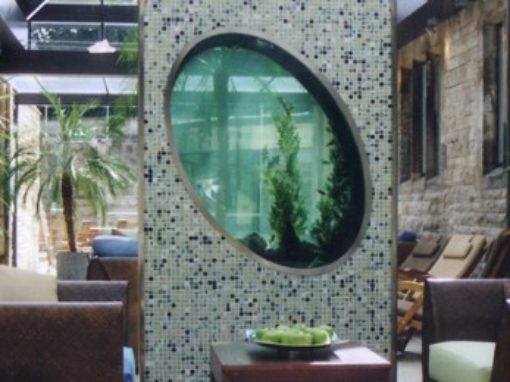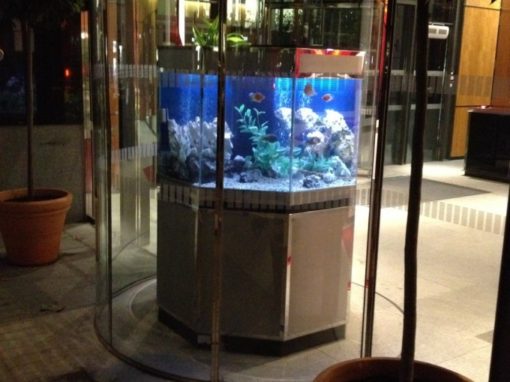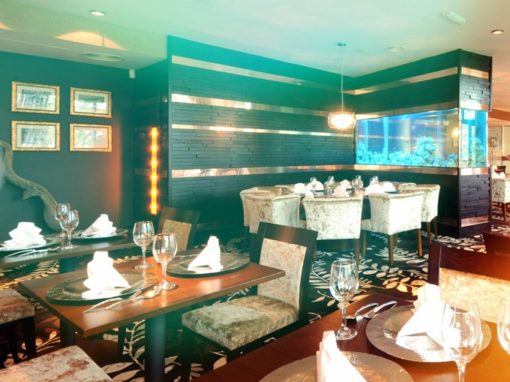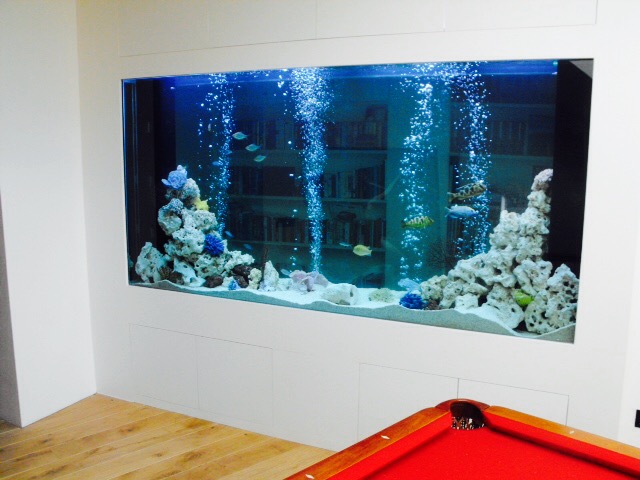 From day you went beyond my expectations and has worth every penny spent. I am beyond happy with my bespoke aquarium.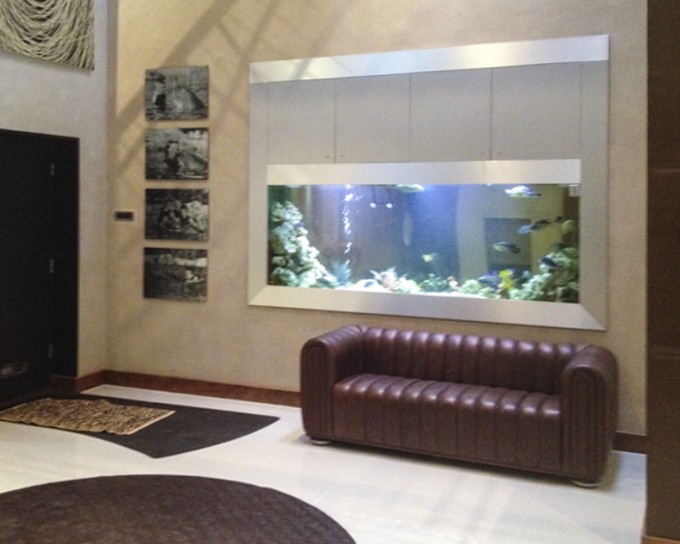 We are delighted with the tank Jeremy installed in 2010 and he now maintains. Our customers love it, especially their children and the fish are happy too!
Mr Hobbs, Meopham Veterinary Hospital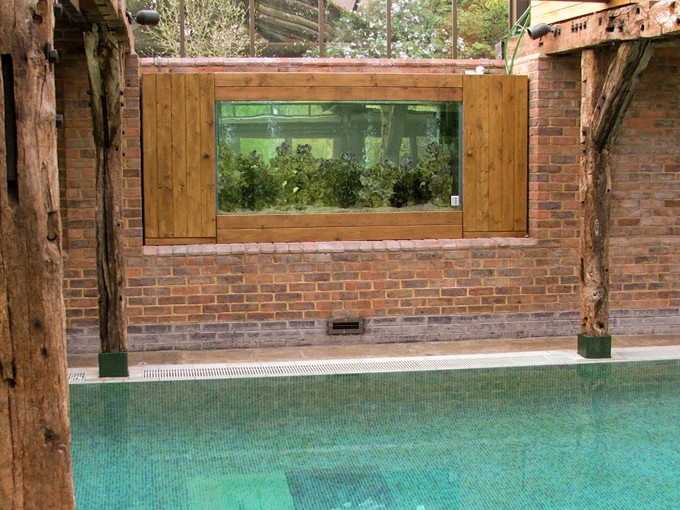 From my initial enquiry the communication was superb, Jeremy responded promptly answering questions, guiding us and providing expert help and advice. Nothing was too much trouble.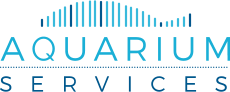 Made in Britain
All custom aquariums designed and manufactured in the UK

Custom Specilaist
Custom tank specialist; it's all we do (we are not a shop)

High Quality Glass
High quality British float glass up to 38mm thick

Aquarium Experts
Expert specialist knowledge E.G. Though wall aquariums, exhibition stands etc

Vast Experience
25 Years experience in aquarium design & commercial installations

Customer Satisfaction
100's aquariums installed, 100's of satisfied customers
What is the design & installation process?
Call us on 01832 275576 or get in touch via our Contact Page. We will be happy to discuss your ideas and provide a rough idea of cost.


When you are ready we will come to your premises to discuss the best options with you and take accurate measurements.
We then give you a firm, no obligation quote.


Once you are happy with this and wish to place an order, we can get the ball rolling subject to payment of a deposit (typically 50%).
Our UK based manufacturing team get to work to construct your bespoke aquarium.


We book in a date for the installation, which will be within 4 weeks of a the order being placed.
The tank is installed, filled and set up with top quality filtration, heating and lighting equipment.


The fish can be introduced approximately 10 days after installation, once the water has achieved the right conditions.
Let's talk about your project